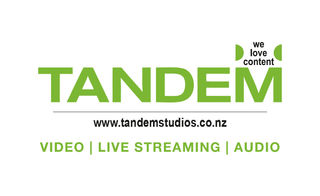 381 Montreal Street Christchurch New Zealand
http://www.tandemstudios.co.nz/
Tandem Studios has been based in Christchurch, New Zealand since 1974 and has been an influential studio ever since.
In March 2005 we saw for the first time a new media called You Tube, that along with podcasting and then social media not only caused a massive change in the way we all consume our media, it also changed Tandem Studios from just being audio focused to now being a true multi media studio.
Audio, Video and Online. These are the three areas Tandem Studios has now developed great experience and expertise in. Since those beginnings of You Tube Tandem has grown into one of the leading online audio and video companies in New Zealand.
Live streaming of events, conferences and meetings for both public and internal audiances is a large part of our service offerings. Clients we work with include Christchurch City Council, New Zealand Parliament, Deloitte's, NZ Pork Board, AMI and many other small and large businesses that want to market and communicate themselves through the mixed media world we live in today.
Tandem also has the largest voice agency in the South Island and using this choice of voice makes many radio commercials for local and national clients. Tandem will produce jingles and music beds for use in radio, TV and online marketing videos or DVD's
Musically Tandem now focuses on acoustic and vocal recordings. For any music studio's our biggest issue is the fact artists and bands can and do record at home and are generally unwilling to spend money in studios when they can track much of their music from home based studios. This means our chief point of difference is the quality of microphones and the recording space and of course a good engineer with great ears. This way Tandem can still be a part of the music process but doesn't have to spend large amounts on excess and expensive equipment. Tandem can also use our studio facilities for mixing and mastering.
Tandem Studios is now a fully fledged audio and video production department and based at 381 Montreal Street, Christchurch. If you have any questions please contact us as we are happy to talk audio, video, music and online.
Make an Enquiry