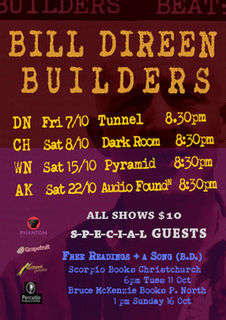 Music act. Solo and band. Various members everywhere.
https://south.indies.online.fr
The 2016 tour
THE 2016 TOUR DATES
Dunedin Writers /Music Library Thurs. 6 Oct. 6pm Free
Port Chalmers Band The Tunnel Fri. 7 Oct 8.30pm. $10
Christchurch Band Dark Room Sat 8 Oct. 8.30pm $10
Christchurch B.D. reads Scorpio Tues 11 Oct. 6pm Free
Lyttelton Writers/Music Lytt. Coffee Sun 9 Oct 8.30pm Free
Wellington Ferocio/Cut/Builders Pyramid Fri 15 Oct 8.30 $10
Palm. Nth BD reads Br.MacKenzie Bks Sun 16/10 1pm Free
Auckland Writers/Music Wine Cellar Wed 19 Oct 8.30pm $10
Auckland Band Audio Foundation Sat 22 Oct 8.30 $10
The tour is in tandem with reading events, so members of some bands might appear at readings to add sounds.
Make an Enquiry