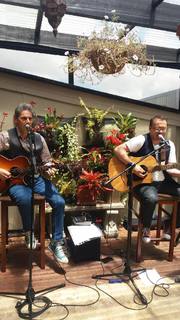 We're a duo comprising two guitars and two vocals.
Healey & Rich comprises Andrew Healey (vocals, guitar & harmonica) and Ian Rich (guitar & vocals).
We play music from great artists such as The Beatles, Crowded House, The Eagles and Eric Clapton. And, unlike many other so-called duoes, we don't rely on backing tracks and special effects to get a great sound.
Make an Enquiry