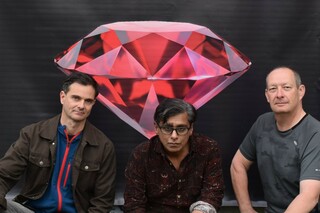 Rubine was formed in 2016 consisting of Tana Tapri (lead vocals) Afzer Zameer (drums) Keith McGlade (bass) and Stefan Doll (guitar). Tana complements with her raspy rock voice what Rubine stands for: raw emotions, energy and life performances that takes th
http://www.facebook.com/rubinenz/
Rubine stands for original rock music of various styles from ballads to Blues to classic rock. The set list can be adjusted to suit the needs and wishes of the audience and organisers. The show can go up to 90min and the band is constantly working on new materials.
The band members are originally from Slovakia, Germany, England, and New Zealand, met in Aotearoa, and bring their various influences into a refreshing new rock show. The performances achieved a fantastic response from the audience and their songs are regularly played on local radio.
Tana Tapri is an award winning, well established artist who captures her audience with her raspy rock voice and unique vocal interpretations. Together with Rubine they deliver an exciting, fresh, energetic rock show that takes the audience on an unforgettable emotional roller coaster.
Make an Enquiry