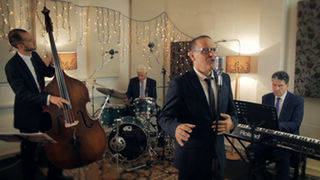 We're an Auckland-based jazz and swing band. Our specialty is creating specialising a cool and sophisticated atmosphere at weddings and corporate events.
https://www.singerguitarist.org/jazz-covers-band/
For an event to be successful, the atmosphere is critical. So, we go for a classic look: stand-up bass, a classic-style microphone and we all wear suits.
Our repertoire comprises a blend of jazz, swing, latin and samba tunes. and, it's real; we don't mess around with backing tracks and gimmiky effects.
Here's the lineup:
Vocals: Andrew Healey
Keyboards: Chris Naughton
Drums: Dave Cowley
Stand-up bass: Jonathan Burgess.
Here's what a client said:
"Thank you Standard Deviation for your performance last night at our staff event. It was a perfect start to the evening, providing a relaxed and chilled atmosphere as our guests arrived and chatted over drinks. We had many compliments about your performance and would look forward to working with you again"— Kate Birch, Director Organisational Development, AUT.
Make an Enquiry