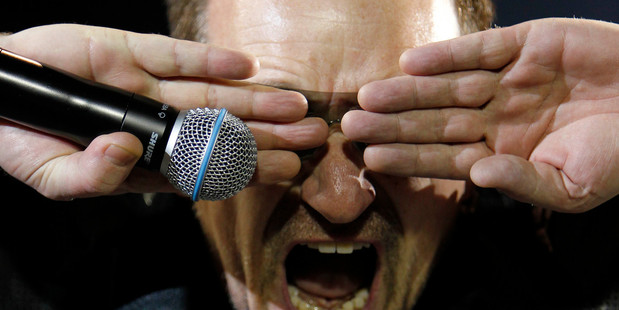 Bono has defended U2's decision to release their latest album for free via iTunes, saying it's the band's job to "stir things up".
As reported by NME.com, the front man for the legendary Irish group told Jo Whiley's BBC Radio 2 show that last week's give away of their 13th album Songs of Innocence was "punk rock".
"That's always been the way. It was the same on our first album. That was kind of why you got into a band - to stir things up and annoy people," he told Whiley.
"That's the whole punk rock thing ... the only thing that could have gone wrong would have been being ignored."
Some iPhone users were not happy that Songs of Innocence was automatically added to their iTunes music library, free of charge.
They took to Twitter to complain and ask how to remove it. While it was already possible to delete the album, Apple released a tool that made it possible in one step.
Bono said up to 38 million fans had listened to the album in the past week.
"If you're a songwriter, if you're in a band, that's all you can ask for. Whether they take them to their heart is something else ... we get people who might want to delete it but nobody has deleted more U2 songs in the last five years than U2."
According to the Wall Street Journal, the deal cost Apple US$100 million ($123 million).
The album is set to be followed up by a second, called Songs of Experience.
"If you like Songs of Innocence, stay with us for Songs of Experience. It should be ready soon enough," Bono said this week in a statement after the release of the spam album.
- nzherald.co.nz with agencies
http://www.nzherald.co.nz/music/news/article.cfm?c_id=264&objectid=11327672
Posted: Mon 22 Sep 2014