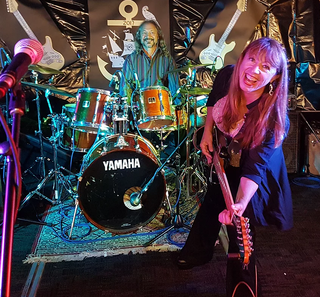 Live Duo
http://www.happyfishband.co.nz
Happy Fish has emerged from a deep respect for each other's talents. Gordon Joll is one of New Zealand's most accomplished musicians, a drummer of world class status who has played a part in shaping New Zealand's musical history for over forty years, having collaborated with such great names as Herbs, Hello Sailor, Rock Candy, Auckland Philharmonic Orchestra, Billy T. James, Tom Sharplin, Hammond Gamble, The Mockers, Glen Moffatt, Brendon Ham….the list goes on. He is an inducted member of the New Zealand Music Hall of Fame.
Sue Joll, guitarist/singer/songwriter has been an all-round social musician for 30 years as bass player for Monique Rhodes, Doc Savage and Hashtag and rhythm guitarist and vocalist for Too Wild and Fatal Attraction.
Happy Fish now bring an exciting mix of original and Kiwi music, and well-known classics. Together they create a truly exciting and original sound. Happy Fish performs with a passionate and professional enthusiasm to engage any audience that enjoys Kiwi music, dancing and having a great time in general. Happy Fish combines the sonic possibilities of the electric guitar and drum kit to create a full and exciting sound to accompany Sue's accomplished vocals. Sue was previously known as Sue Gray until her marriage to Gordon in March 2016.
Contact: Sue on 021 623 776 or Gordon on 021 660 226 or email: Happyfishband@gmail.com
Make an Enquiry